BORN 1966, NEW YORK CITY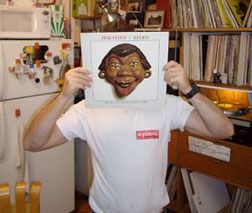 TOM SACHS is a sculptor, probably best known for his elaborate recreations of various Modern icons, all of them masterpieces of engineering and design of one kind or another. In an early show he made Knoll office furniture out of phone books and duct tape; later, he recreated Le Corbusier's 1952 Unité d'Habitation using only foamcore and a glue gun. Other projects have included his versions of various Cold War masterpieces, like the Apollo 11 Lunar Excursion Module, and the bridge of the battleship USS Enterprise. And because no engineering project is more complex and pervasive than the corporate ecosystem, he's done versions of those, too, including a McDonald's he built using plywood, glue, assorted kitchen appliances. He's also done Hello Kitty and her friends in materials ranging from foamcore to bronze.
A lot has been made of the conceptual underpinnings of these sculptures: how Sachs' sampling capitalist culture, remixing, dubbing and spitting it back out again, so that the results are transformed and transforming. Equally, if not more important, is his total embrace of "showing his work." All the steps that led up to the end result are always on display. On a practical level, this means that all seams, joints, screws or for that matter anything holding stuff together, like foamcore and plywood, are left exposed. Nothing is erased, sanded away, or rendered invisible. On a more philosophical level, this means that nothing Sachs makes is ever finished. Like any good engineering project, everything can always be stripped down, stripped out, redesigned and improved.
The reward for work is more work.
--Mark van de Walle
1987 Architectural Association, London
1989 BA, Bennington College, Bennington, Vermont
2017 OBJECTS OF DEVOTION, Sperone Westwater, New York
TOM SACHS: TEA CEREMONY Nasher Sculpture Center, Dallas
BRONZE Baldwin Gallery, Aspen
HEAVEN Sogetsu Kaikan, Tokyo
RADIANT CITY, Herron School of Art and Design, Indianapolis
2016 SPACE PROGRAM: EUROPA, Yerba Buena Center for the Arts, San Francisco
NUGGETS Jeffrey Deitch, New York
TOM SACHS: BOOMBOX RETROSPECTIVE 1999-2016 The Brooklyn Museum
TOM SACHS: TEA CEREMONY The Noguchi Museum
2015 TOM SACHS: BOOMBOX RETROSPECTIVE 1999-2015 The Contemporary Austin
2014 AMERICAN HANDMADE PAINTINGS Galerie Thaddeus Ropac, Paris
2013 NAUTICAL CHALLENGE AND OTHER VOODOO, Baldwin Gallery, Aspen
2012 SPACE PROGRAM: MARS Park Avenue Armory, New York
2011 WORK Sperone Westwater, New York
DRAWINGS Thaddaeus Ropac, Paris
2010 LE CORBUSIER INSTALLATION, Venice Biennial of Architecture
2008 BRONZE COLLECTION Lever House, Baldwin Gallery, Thaddaeus Ropac
ANIMALS Sperone Westwater, New York
2007 ISLANDIA Galerie Thaddeus Ropac, Paris
LOGJAM Des Moines Art Center, Des Moines
SPACE PROGRAM Gagosian, Beverly Hills
2006 TOM SACHS - SURVEY Astrup Fearnley Museet for Moderne Kunst, Oslo
TOM SACHS Fondazione Prada, Milan
2005 McDONALDS Tomio Koyama Gallery, Tokyo
2004 CONNECTICUT Sperone Westwater, New York
2003 NUTSY'S Deutsche Guggenheim, Berlin
2001 WHITE Galerie Thaddeus Ropac, Paris
1999 HAUTE BRICOLAGE Mary Boone Gallery, New York
1997 TOM SACHS Galleria Gian Enzo Sperone, Rome
1995 CULTURAL PROSTHETICS Morris-Healy Gallery, New York
Albright Knox Art Gallery, Buffalo, New York
The Art Institute of Chicago, Chicago, Illinois
Astrup Fearnley Museet for Moderne Kunst, Oslo, Norway
The Berezdivin Collection, Puerto Rico
Berkeley Art Museum and Pacific Film Archive, Berkeley, CA
Bibliothèque Nationale de France, Paris, France
The Cartin Collection, Hartford, CT and New York, NY
Centre Georges Pompidou, Paris, France
Citigroup Art Collection, New York, NY
The Contemporary Austin, Austin, TX
Crystal Bridges Museum of American Art, Bentonville, AR
Des Moines Art Center, Des Moines, Iowa
Ellipse Foundation, Contemporary Art Collection Arte Centre, Cascais, Portugal
Fondazione Prada, Milan, Italy
The Getty, Los Andgeles, CA
Hammer Museum, Los Angeles, CA
The Jewish Museum, New York, NY
The Jumex Collection, Mexico City
Kunstmuseum Liechtenstein Collection, Liechtenstein
Lever House Collection, New York, NY
Los Angeles County Museum of Art, Los Angeles, CA
Maramotti Collection, Reggio Emilia, Italy
The Metropolitan Museum of Art, New York, NY
Montblanc Art Collection, Hamburg, Germany
The Museum of Modern Art, New York, NY
NASA Permanent Collection, Washington DC
Schauwerk Sindelfingen, Sindelfingen, Germany
The Sammlung Essl Collection, Vienna, AustriaThe Sammlung Goetz Collection, Munich, Germany
The Sammlung Olbricht Collection, Essen, Germany and Berlin, Germany
The San Francisco Museum of Modern Art, San Francisco, CA
Solomon R. Guggenheim Museum, New York, NY
The Smithsonian Institute, Washington DC
University of North Carolina, Weatherspoon Art Gallery, Greensboro, NC
Vanhaerents Collection, Brussels, Belgium
Museum Voorlinden Permanent Collection, Wassenaar, Netherlands
Whitney Museum of American Art, New York, NY
Yale University Art Gallery, New Haven, CT